Ziti Bake
@danieleuditi is back, and this time it's the ultimate comfort food. Ziti Bake, just like a 'taste of Sunday mornings' in Italy with his grandmother.
Ingredients
2 700g bottles of passata di pomodoro
300g/10.5 Oz of Italian sausage
300g/ 10.5 Oz Parmigiano Reggiano
300g / 10.5 Oz Pecorino Romano
500g / 17.5 Oz ziti pasta
Step 1:
Take 400g of ground beef and roll into small meatballs. Place on a baking tray ready for cooking and season with salt and pepper and drizzle with olive oil.
Step 2:
Place the meatballs in Dome at 250°C/480°F and cook until browned all the way through. Allow it to cool.
Step 3:
Create the tomato sauce by chopping 1 onion and placing into a pre-heated cast-iron pan with some olive oil. Place into Dome and cook down until lightly browned.
Step 4:
Remove from Dome, break down the Italian sausage into small pieces and add into the pan, place back into the oven and brown. Remove from Dome, add basil and passata and stir until combined.
Step 5:
Add the meatballs from earlier into the pot of sauce. Place into the Dome and cook until it has reduced slightly.
Step 6:
On the stove, boil the Ziti pasta for half the stated time on the packet.
Step 7:
Once the pasta is cooked, remove from the pan and drain. Add spoonfuls of the sauce into the pasta bowl, add basil and ricotta, Parmigiano Reggiano, Pecorino Romano and mix well together.
Step 8:
Cut cubes of Mozzarella di Bufala and add to the bowl of pasta and sauce.
Step 9:
Take another cast-iron pan and pre-heat. Remove from Dome and pour in the pasta and sauce mix. Place back into the oven at 250°F/480°C and cook until the top has crisped up and browned.
Step 10:
Remove from the oven. Grate over a generous amount of Parmigiano Reggiano and Mozzarella di Bufala. Place back in the oven for 2-3 minutes until the cheese has melted.
Step 11:
Remove from the oven, finish with more Parmigiano Reggiano, sauce and basil.
Step 12:
Serve and enjoy!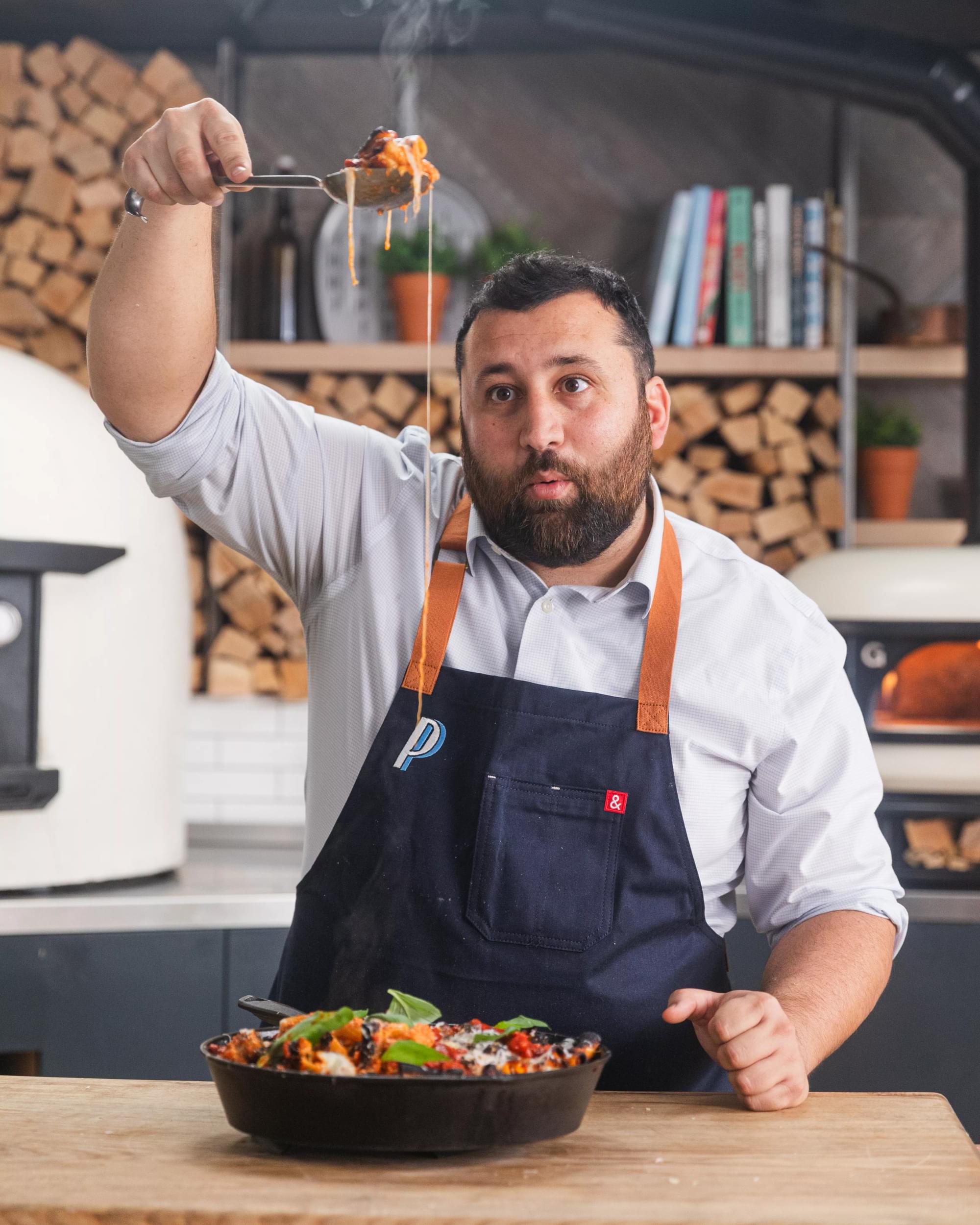 Recipe Contributor
Daniele Uditi
Daniele Uditi is renowned for creating authentic Italian dishes at his restaurant @pizzana. He's also a judge on Hulu's 'Best In Dough' and we're super excited to have him on board as a Gozney Ambassador.