Sandwich Loaf
The ultimate sandwich loaf, topped with cheese for an indulgent bite. Created by pro baker David Wright aka @thebreaducator.
Ingredients
Strong White Flour 40g (1.5oz)
Strong White Flour 15g (0.5oz)
Strong White Flour 250g (9oz)
Wholemeal Flour 60g (2oz)
Barley Malt Extract (or Honey) 15g (0.5 oz)
Diastatic Malt Powder ½ tsp (optional)
Show more
Step 1:
To make the sponge, mix all the ingredients listed together and place in a small container.
Step 2:
To make the tangzhong the night before, put the water and flour in a pan and whisk until the lumps are removed. Heat slowly (at around 300°C/570°F on embers) at the edge of the Dome until the mixture becomes gelatinous. Place it to one side to cool down.
Step 3:
Place some onions on the fire and cook until blackened and caramelised. Create a confit garlic by placing a bulb of garlic in olive oil with sea salt and bake in your Dome for around 30 minutes until completely soft.  
Step 4:
Begin creating the sandwich loaf. Put all the ingredients in a mixing bowl together and mix for 4 minutes on slow and then 4 minutes on fast.
Step 5:
 Remove the dough from the mixer, and finish shaping it on the counter until it's a tight ball. Leave to rest for 50 minutes.
Step 6:
After resting, lightly flour a surface and shape the dough into a long loaf. Put into the sandwich tin and prove for around 45 minutes -1 hour until the dough is 1 inch from the top. 
Step 7:
Remove charred parts of the onions to reveal the soft, caramelised inside.
Step 8:
Bake with the door on and vents shut (wood only) for 20 minutes between 210°C-250°C/ 410°C-482°F. Make sure to add water into the steam injector on the Dome (purchase accessory here link).
Step 9:
Remove from the oven. Take the lid off and place back in the oven to finish baking for a further 10 minutes.
Step 10:
Roast the vine tomatoes in a cast iron pan, along with olive oil, sea salt and lemon juice. Finish them with basil once removed from the oven.
Step 11:
Once the loaf has cooled, slice to begin creating the cheese on toast.
Step 12:
Place slices of bread on a cast iron sheet. Brush over garlic oil and place in the Dome until the bread becomes lightly toasted.
Step 13:
Spoon over the roasted tomatoes, confit garlic, pickles and béchamel sauce. Add slices of Olgleshield cheese. Finish with black pepper. Place into the Dome to finish until the cheese has melted.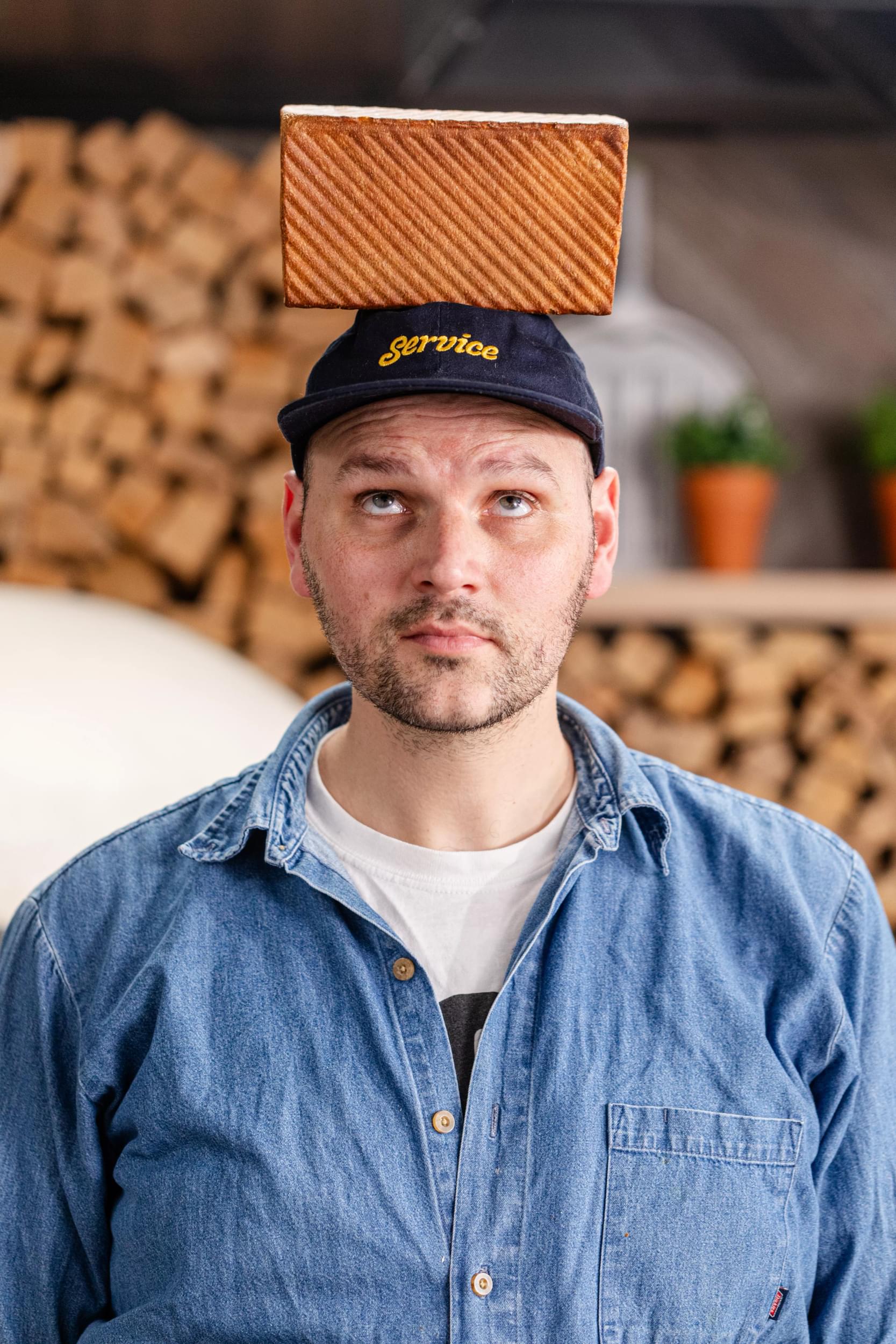 Recipe Contributor
David Wright
David is the Head Baker at Pump St Bakery in Suffolk, UK who has carved a niche for live fire baking.