Pizza Caprese
Pizza Caprese - a fresh twist on an Italian classic, perfect for summer. With thinly sliced tomatoes and buffalo mozzarella, this is a piece of simple indulgence you must try by the amazing @leopardcrust.
Ingredients
260g/9 Oz pizza dough ball

1 large tomato (heirloom, optional)
200g/ 7 Oz fresh mozzarella (buffalo, optional)

Fresh basil

Extra-virgin olive oil

Freshly -ground black pepper

Salt
Show more
Step 1:
Use a serrated knife to finely slice the tomatoes, then arrange the slices in a single layer on a paper towel. Season with salt, then use a paper towel to remove excess moisture. Transfer the tomato slices to a bowl, sprinkle with salt, pepper, then coat generously in extra-virgin olive oil.
Step 2:
Preheat your Gozney Roccbox or Dome to 450°C/850°F. Open out a dough ball into a circular base using your favourite method. Top the pizza base with sliced, marinated tomatoes. Save the remaining olive oil as a post-bake topping.
Step 3:
Transfer your pizza to a launch peel, ensuring that you have dusted the peel with flour to avoid the dough from sticking. Gently adjust the pizza on the peel before launching into your Gozney oven.
Step 4:
Allow the pizza to bake for 20-30 seconds before turning it with a Gozney turning peel. Turn every 20-30 seconds, baking the pizza evenly on all sides of the crust until baked to the colour you like.
Step 5:
Once cooked, remove from the oven and place fresh basil leaves and hand-torn fresh mozzarella on the pizza. Season lightly with salt and pepper, then spoon over the extra-virgin olive oil used to marinate the tomatoes.
Step 6:
Serve and enjoy!
Okay, it is time to fire up your Gozney pizza oven and have fun! Why don't you share your work with us on social media, just use the #gozneykitchen!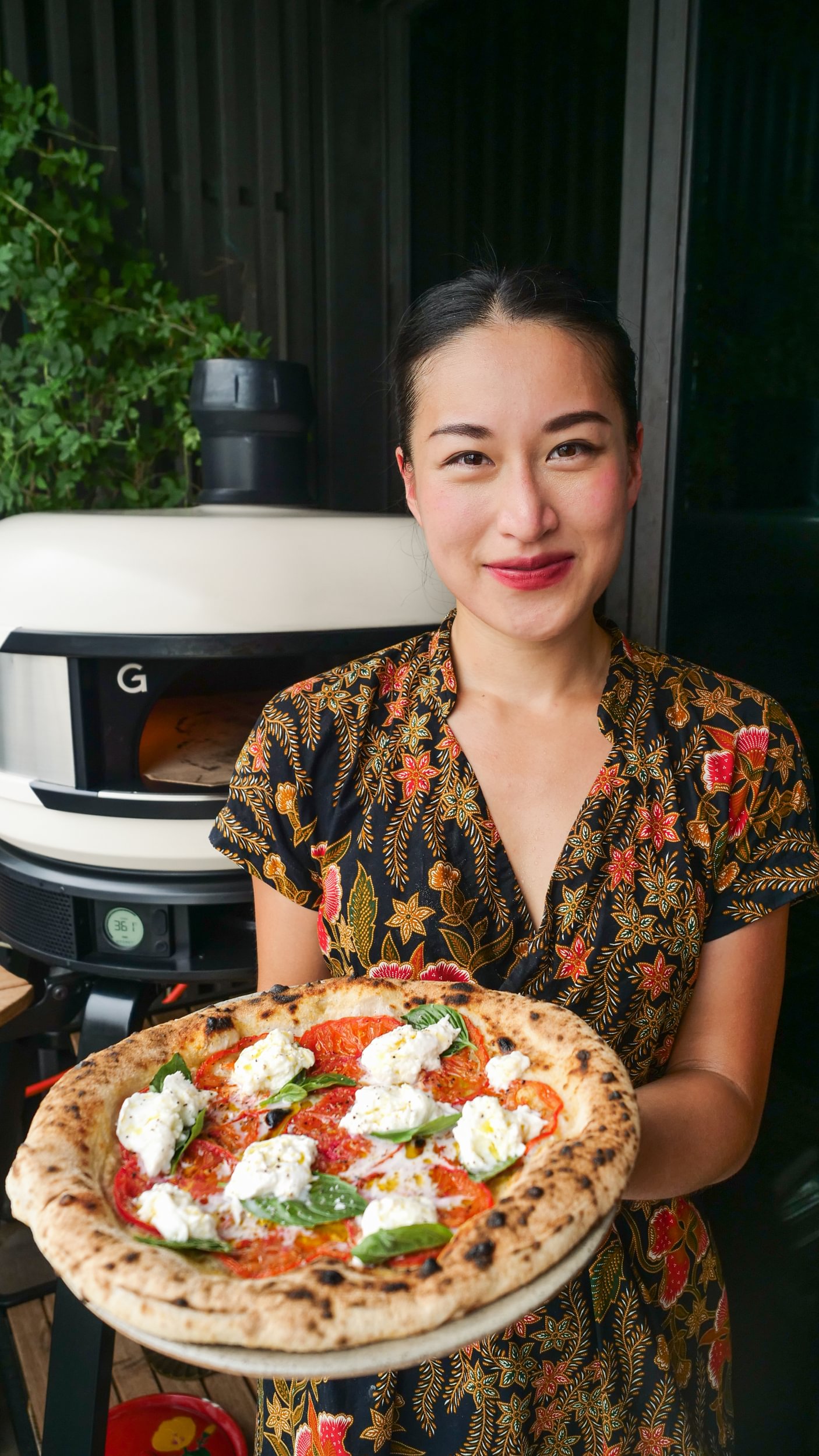 Recipe Contributor
Feng Chen
Feng Chen aka @leopardcrust is the queen of making the most imaginative pizzas, famous for their perfect leopard spotted crusts.