Pesto Swirls
The bread master @richardbertinet is back with an olive oil dough pesto swirl, that will have your mouth watering. Filled with confit garlic, roasted tomatoes and fresh pesto inside a light and fluffy dough.
Ingredients
500g / 17.6 Oz Strong bread flour
20g/ 0.7 Oz Course semolina
15g/ 0.53 Oz Yeast (fresh if possible)
50g / 1.75 Oz Good-quality extra-virgin olive oil
320g / 11.3 Oz Water (320ml – but weighing is more accurate)
100g/ 3.5 Oz oven-dried tomatoes
Large bunch of fresh basil – leaves only (optional)
A little extra virgin olive oil to finish
Flour for dusting (either white or maize flour)
Step :1
Mix the bread flour and semolina together and rub in the yeast, using your fingertips as if making a crumble. Mix on medium until combined. Add the salt, olive oil and water, then continue to work the dough.
Step :2
Remove from the mixer and place the dough on a surface, shaping it into a large ball, before pouring over some olive oil, cutting it in half and leaving it to rest for 1-3 hours, or overnight in the fridge.
Step :3
Whilst the dough is resting, get on with making the fillings. Start with the roasted tomatoes. Take 1 punnet (250g/8.8 Oz) of cherry tomatoes or 6-8 larger tomatoes. If you are using cherry tomatoes, halve them; if they are larger, quarter them and place them in a dish. Season with sea salt and freshly ground black pepper and good-quality dried herbes de Provence (or a little fresh thyme and rosemary). Put on the Dome Mantel for around 40 minutes, allowing the heat to gently cook the tomatoes.
Step :4
For the confit garlic, add garlic gloves (still in their skin) from a whole bulb of garlic into a dish. Cover with olive oil, a bay leaf and some rosemary and/or thyme. Again, place on the Dome mantel for around 40 minutes, letting the heat of the oven gently confit the garlic.
Step :5
Put 100g/3.5 Oz pine nuts into a food processor or pestle and mortar with 3 garlic cloves and 100g/3.5 Oz grated parmesan and blitz for a few seconds. Add 3-4 bunches of basil (enough to fill the bowl of the food processor loosely) and blitz again until it has all been chopped. Add the juice of half a lemon and 60g/4 tablespoons of extra-virgin olive oil and blitz once more. Taste and season if necessary, with sea salt and freshly ground black pepper. If the pesto is too thick add a little extra olive oil.
Step :6
Remove the garlic and tomatoes from the Dome mantel. Flour your work surface with semolina. With the help of your rounded end of your scraper turn the dough out onto the work surface so that the sticky underside is uppermost. Sprinkle a little flour onto the dough and then, using your fingertips, spread it out gently into a rectangle of about 35 x 25cm, prodding it gently, so you dimple it with your fingertips.
Step :7
Brush the excess flour from the top of the dough. Spread the pesto over the dough, then spread the tomatoes evenly over it and push them gently into it using your fingertips. Do the same with the garlic and the tomatoes.
Step :8
Fold the dough down vertically and roll it, like you would a Swiss roll. Press the dough gently with your fingertips to work the additional ingredients better into the dough and tuck under the edges neatly all the way round.
Step :9
Cut the dough crossways into equal pieces. Place into individual, circular baking dishes that have been lined with greaseproof paper. Cover with a tea towel and leave to prove somewhere warm and draught-free for 30 minutes.
Step :10
Put into the Gozney Dome at around 300°C/572°F, wood embers, no flame and place the Dome door on. Bake for around 20-25 minutes, checking halfway through.
Step :11
Remove from the Gozney Dome and brush with the oil left over from the tomatoes.
Step :12
Once cooled, serve and enjoy!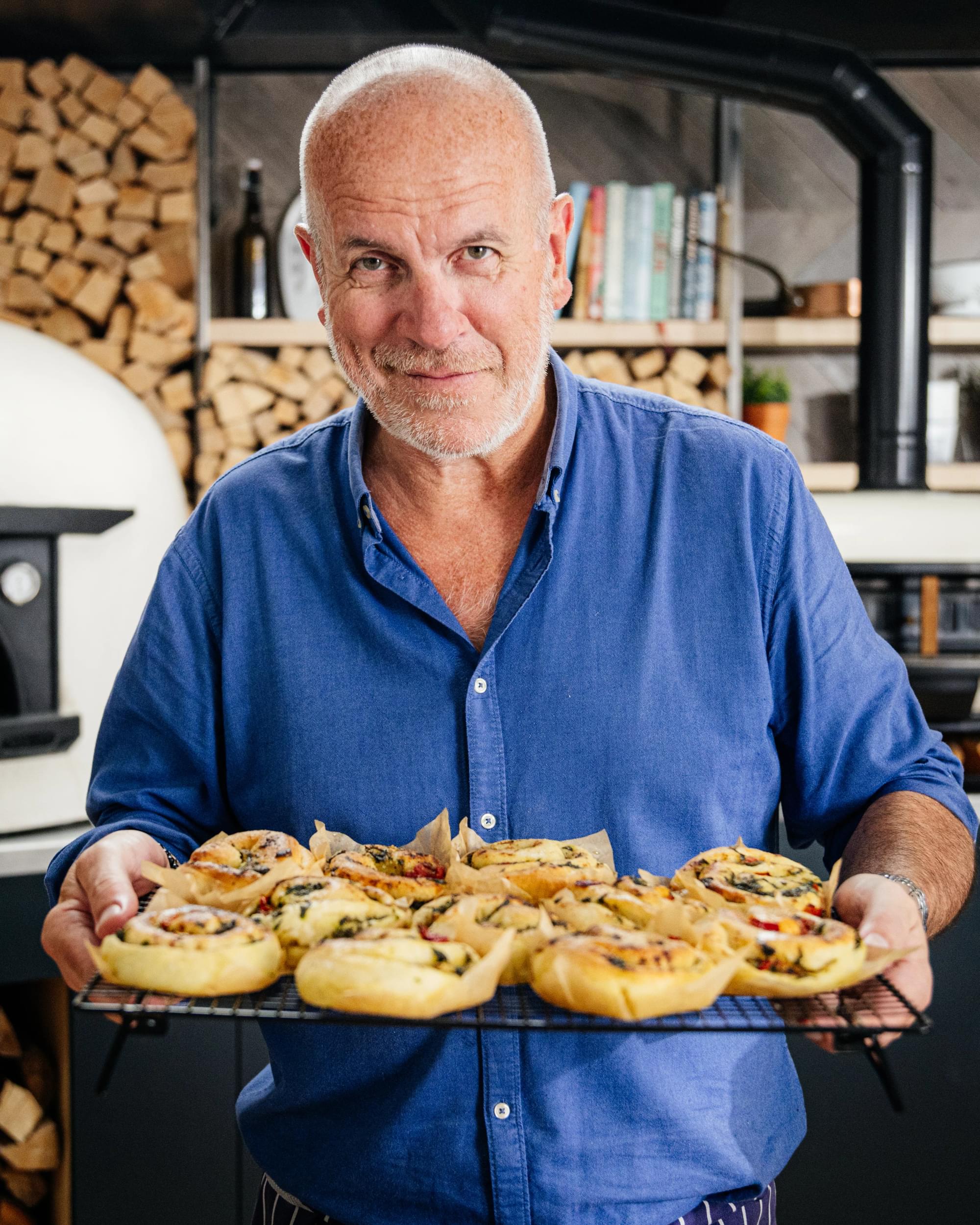 Recipe Contributor
Richard Bertinet
Born in France, Richard Bertinet is a renowned baker and bread expert who bakes and teaches in the English town of Bath.